Product Description
Co-Innovation Rapid Multi-drug Test Dip Card is a simple to administer, all-inclusive drug screen. With up to 12 drug assays and multiple configurations in one cup and result that can be photocopied.

Product Characteristic

Specimen: Urine

Time to result: within 5 minutes

Shelf Time: 24 Months ( 2 years )

Accuracy:> 99%
Storage: 4°C - 30°C

Certificates: FDA 510K, CLIA-Waived, ISO 13485



Product Features

Faster result

Less sample volume

Results stable up to 30 minutes

2 to 12 drug configurations available

Total 22 drug test items for choice
AMP / BAR / BUP/ BZO/ COC /COT/ ETG / FYL / K2/ KET/ MAM /
MDMA/ MET / MOP / MTD/ OPI / OXY/ PCP/ PPX / TCA/ THC/ TRA

How to do the Test ?
Test must be in room temperature (15ºC to 30ºC)
1, Open the sealed pouch by tearing along the notch. Remove the test dipcard from the pouch.
2, Immerse the dipcard into the urine with the arrow pointing towards the urine. Take the dipcard out after 10 seconds. IMPORTANT: Do not allow the urine level to exceed the MAX (marker line), otherwise the test will not perform correctly.
3, Lay the test dipcard on a clean, dry, non-absorbent surface.
4, Read the results at 5 minutes. The drug test results remain stable for up to thirty minutes.
Company Profile
Co-Innovation is an innovative and creative enterprise in R&D, manufacturing and marketing of rapid diagnostics tests.

In 2012, Co-innovation was established in Guangzhou, China. Specialized in lateral flow immunoassay technology, we provide diagnostics tests to global market with pregnancy tests, ovulation predictor, drug of abuse tests.

Our products are being sold to many countries, including United States, Germany, Netherlands, England, Chile, Ecuador, Malaysia, Singapore, India, Australia etc.

Our products have been widely recognized and enormously supported, we aim to produce high cost-effective products, and create the greatest value for customers.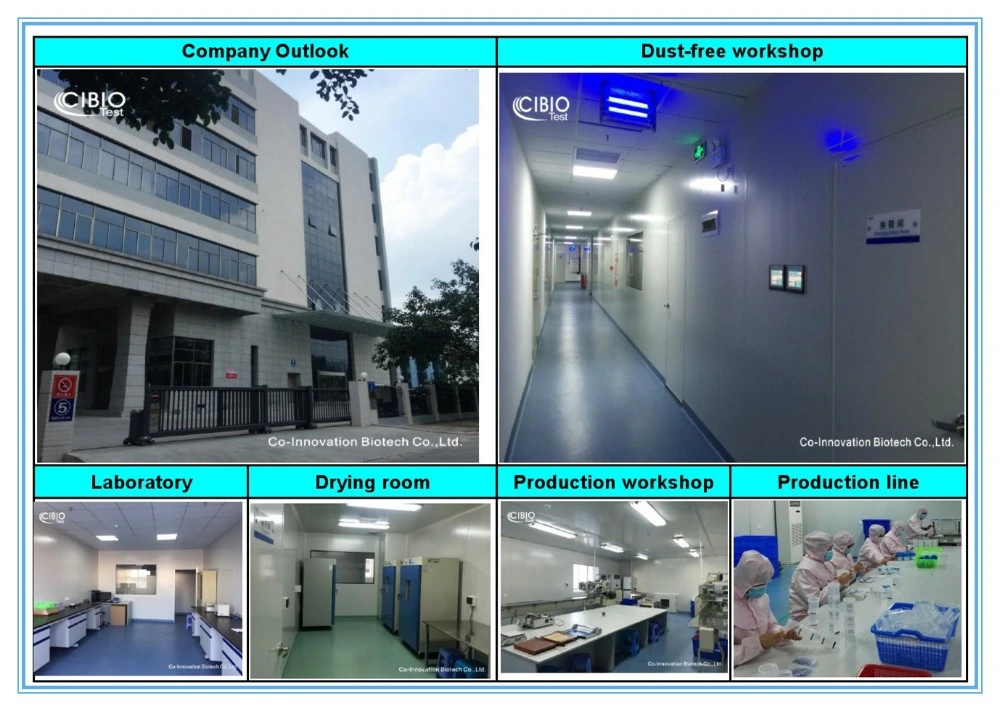 Certificates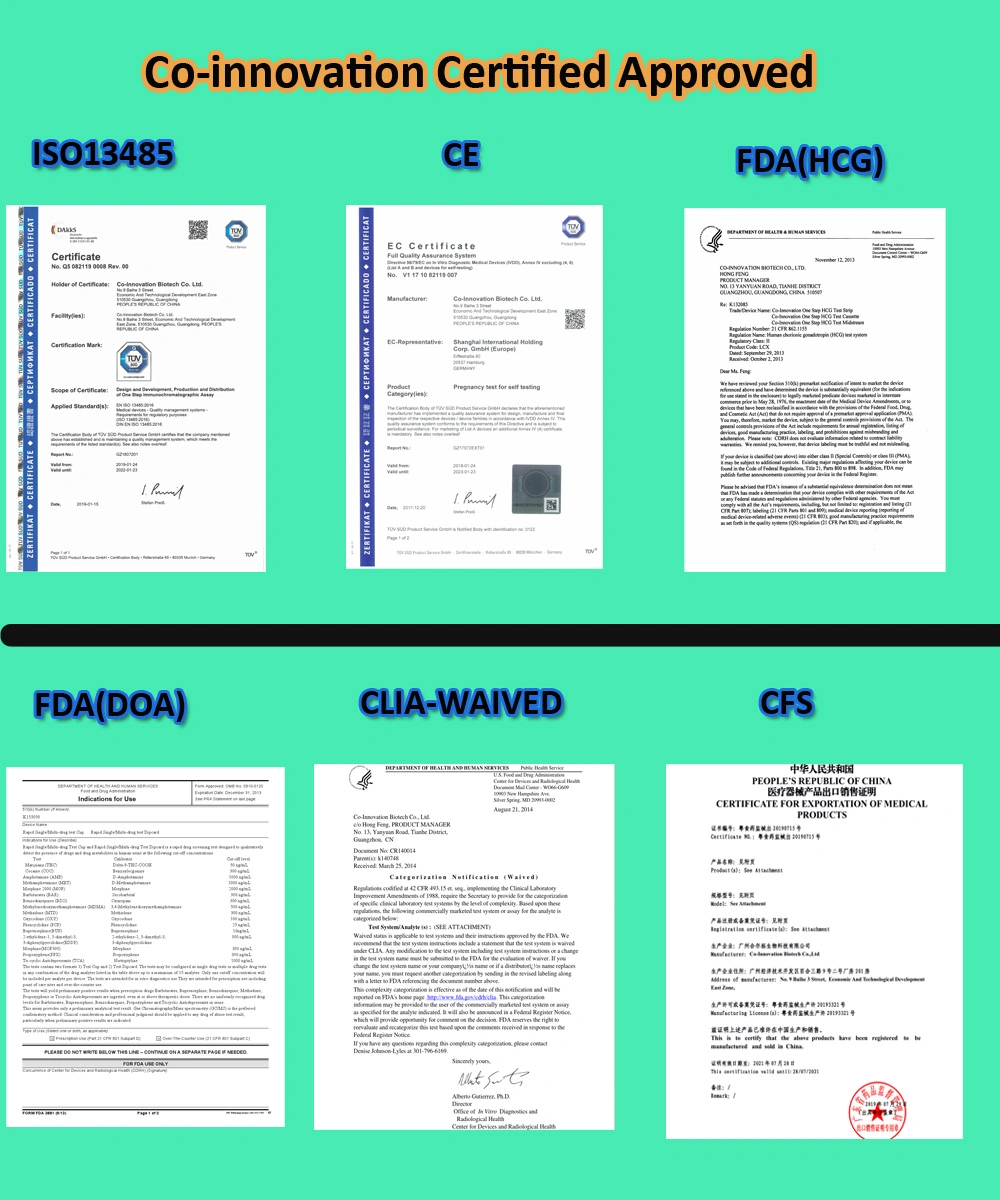 More Products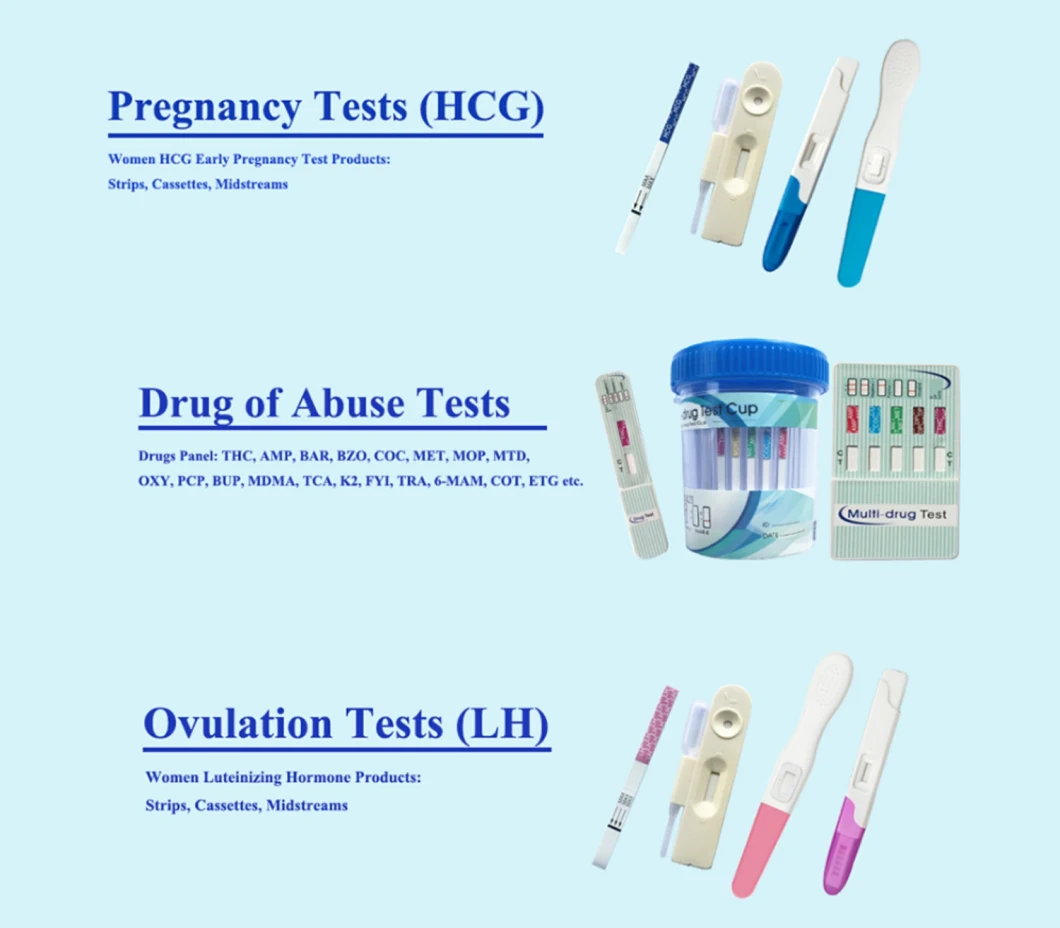 Contact us
Contac Person:
Shirley Pang

Add: No. 9 Baihe 3 Street, Economic And Technological Development East Zone, Guangzhou 510530, Guangdong P.R. China